The trio of lady musicians who make up Zenobia blossomed on to the Danish music scene with sensual and captivating renditions of traditional Danish melodies. From a foundation rooted in Danish song and group singing, the Zenobia trio have composed their own popular original musical pieces by infusing subtle elements of traditional Danish folk music and creatively used tango.
four albums
The ensemble has released four albums; the Danish Music Awards (DMA) nominated 'Midnat' (Midnight), from 2008, 'I Vintermørkets Hal' (In the Dark Halls of Winter) from 2010, 'Fra Fynske Kyster – Zenobia spiller Carl Nielsen' (From the Coast of Fyn – Zenobia plays Carl Nielsen) from 2013 and their ten-year anniversary album 'Blot en ild' (Merely a Fire) from 2017 – a presentation of Zenobia's own melodies to both well known and original texts, along with Mette Kathrine's folk music compositions. In 2013 Zenobia was nominated for the 'Tradition Award' at the Danish Music Awards Folk.
Zenobia Sangbogen (Zenobia Song Book)
The ten-year anniversary of Zenobia's creation also sparked Zenobia Sangbogen (Zenobia Song Book), which contains twenty new songs with melodies by Zenobia. The lyrics in 'Blot en Ild' are parts of classic texts that have been combined with new melodies. But there are also newly written verses by Benny Holst, and by Zenobia's author on previous productions, Martin Rauff-Nielsen, to be found on the record. Erik Sommer has arranged the music for choirs. The Zenobia Song Book thus contains sheet music for the melodies, chords and lyrics, and a collection of three and four part pieces for choirs.
Toured in the great North
Since 2007 Zenobia has toured in Denmark, the Faroe Islands, Greenland and in Germany, and has built an international profile that underscores that at the trio's heart is a mission and desire to preserve and share the songs and folk music of Denmark. Zenobia's concert venues has been an adventure in itself. They have played in the wonderful ambiance of churches, cultural houses and folk schools, gathering houses, music halls and at festivals too. Intimate school concerts, sing-along evenings and a Carl Nielsen concert are also a part of the trio's musical pallet.
Egtved on Denmark's mainland of Jutland
The three musicians were born near Egtved on Denmark's mainland of Jutland. They have known each other since they were children, and grew up surrounded by Danish musical traditions. Louise and Charlotte are sisters and have played music together for as long as they can both remember. They took every opportunity to sing at school, with the girl scouts and at family gatherings. Meanwhile Mette Kathrine learned folksongs from her mother while they waited on the school bus together. The trio's upbringing, travels and musical studies laid a passionate foundation in each of them that has driven their heartfelt desire to renew, create and interpret the Danish musical traditions. They try to bring it to any and all who desire to listen to the stories, melodies and poetry of a long-standing tradition of Danish singing.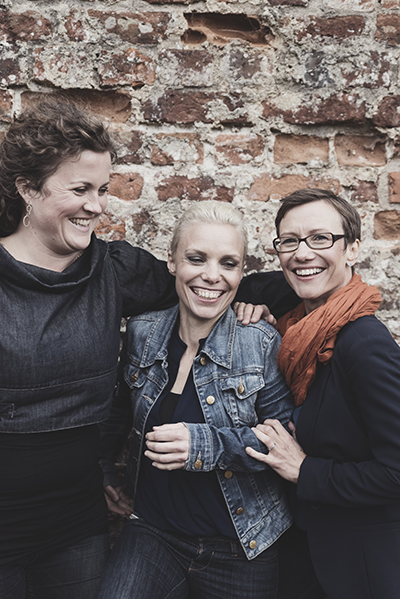 Det er det konstante nærvær af noget underfundigt og skælmsk kombineret med en dybtliggende alvor, der gør Zenobias musik ligetil og altfavnende.
Gedigent håndværk og sublim musikalitet.
Zenobia spiller fantastiske koncerter, her hos os i Musik Galleriet og i Mariehaven i Ansager og mange andre steder rundt i landet. De 3 piger er forrygende på CD med deres vidunderlige blanding af viser, folk, spillemandstoner og traditionelle danske sange… men de er endnu bedre live. Oplev det selv!